NOTE: To avoid delays in the activation of your PictureView account, please read these instructions in their entirety. If you have any questions, please contact us.
If you do not wish to use a credit card, we also accept payment by check or money order.
Check and money order payments must be sent by mail. Our address is:
Interactive Classifieds Network Corporation
1592 Union Street, Suite 357
San Francisco, CA 94123-4505
The rate is $12.95 per month, or $155.40 per year (you can pay for as many months as you wish, but the minimum payment is $12.95).
Payment must be made in United States dollars, payable to either PictureView or Interactive Classifieds Network Corporation.
You will need to Sign Up for PictureView (this process is required) and type "Sending Check" where it asks for your credit card number (see example below). Select any card under Payment Type and any expiration date to pass the initial screening. Your account will be automatically declined, but this process allows you to create an account and reserve a Username and Password of your choosing.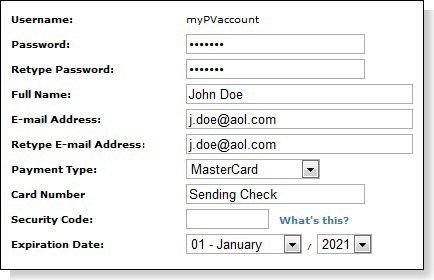 Sending Check Sign Up Example
After you have created your account, mail your payment to the address above, making sure to include your name, PictureView Username, and e-mail address with your payment.
Will will activate your account on the same day that we receive your payment. We will send you an e-mail on the day your account is activated and indicate the date your account will expire.
Approximately 10 days before your account is due to expire, we will e-mail you a courtesy message reminding you to send another payment if you wish to continue your service.
Again, if you have any questions, please contact us.
Related Links: