If you are using McAfee and you are unable to get beyond the Members Entrance page, you might need to adjust your McAfee settings. Below are instructions for correcting your settings on the Windows platform (using McAfee Internet Security Version 11).
Click on the Start menu.
Click on All Programs.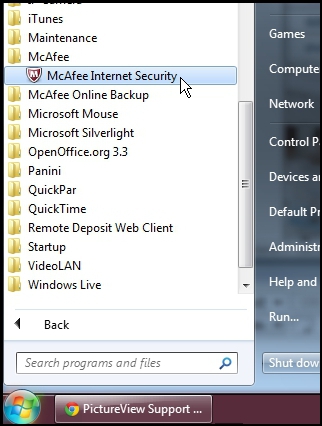 Accessing McAfee via the Start Menu
Scroll down and click on the McAfee folder.
Click on the McAfee program listed under the McAfee folder (in the example above it is called McAfee Internet Security but it can also be McAfee Security Center).
In the McAfee window that appears, click on Web and Email Protection.
Click Firewall.
Click the Net Guard button.
Locate and click on the appropriate IP address (ours will begin with 208.51.83).
Click the Edit button.
Click on the Allow option and then click Apply.
---
Related Links: