The Personal Group List feature allows you to access a customized subset of the Complete Group Index. Rather than access the full index of hundreds to thousands of groups, you may find it useful to create and access a Personal Group List of your ten favorite groups instead.
The Personal Group List is stored locally, on your computer–not on any PictureView server–as a cookie file (see below for instructions on how to save your PGL to a PictureView server). As a result, in order to take advantage of the Personal Group List feature, you must have cookies enabled in the browser software that you use (e.g., Internet Explorer, Mozilla Firefox, Safari, etc.) and any anti-virus, firewall, or security software that you use must allow for the Personal Group List cookie.
Creating and Saving Your PGL in the New Version
To see a short, informal video on how to create a Personal Group List, please click the link below (requires QuickTime). If you want to see an explanatory video of a certain subject or feature, please let us know.
You now have the option of saving your Personal Group List to our server (using the Save PGL to server link) and then load it (using the Load PGL from server link) in case your PGL cookie is ever deleted, corrupted, or damaged.
To create a PGL, you will need to select your groups. Groups can be added from the Complete Group Index by clicking on the checkboxes in the PGL column adjacent to the desired groups. (Groups can also be added from a thumbnail page using the Add this Group link in the PV2 style or the Add this group to Personal Group List link in the Classic style.)

Adding Groups to Your Personal Group List
Before you save your PGL to our server, be sure to review it first by clicking on the Personal Group List link from the Complete Group Index (after selecting groups for the first time you will need to refresh the current page or click the Personal Group List link in order for the Save PGL to Server link to appear). Once you are satisfied, click the Save PGL to server link.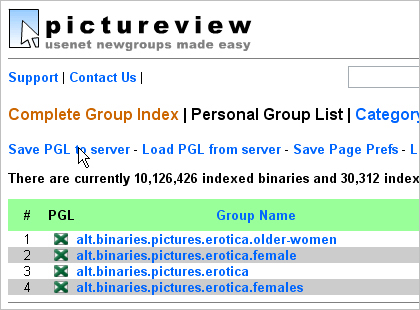 Saving Groups to Your Personal Group List
Again, cookies must be enabled in order for the PGL feature to function.
Related Links: