If you are using the Internet Explorer browser on the Windows platform and are not prompted to enter a Username and Password when accessing the PictureView service, your User Authentication settings may need to be adjusted. To determine and change your settings, please follow the instructions below.
Launch Internet Explorer.
Click on the Tools menu (or the gear icon near the upper right corner) and select Internet Options. The Internet Options dialog window will appear. (If you are using Windows 8, you might need to launch Internet Explorer from the Desktop rather than the Start screen in order for the gear icon to be displayed.)NOTE: Using America Online (AOL), you will need to access the AOL Internet Properties dialog window. How you access the dialog will depend on the version you are using. For example, using AOL version 5.0, click on My AOL, select the Preferences option, and then click on the WWW option; using AOL version 7.0, click on Settings, select the Preferences option, and then click on Internet Properties (WWW).
Click on the Security tab.

Internet Options Security Tab
Click on the Custom Level button. The Security Settings dialog window will appear.
Scroll through the list until you reach the User Authentication category (near or at the very bottom).
Make sure that Prompt for user name and password is selected.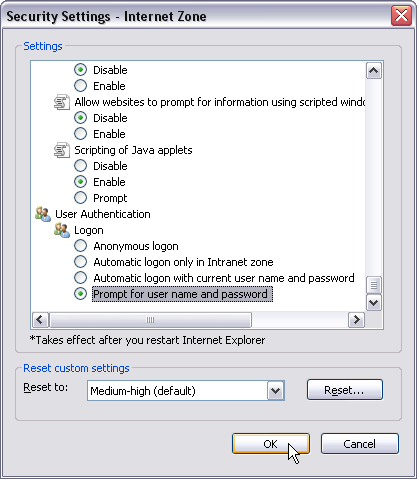 Security Settings Showing the correct User Authentication Setting
Click the OK button to close the Security Settings dialog window. Click the Yes button to confirm the change in your settings.
Click the OK button to close the Internet Properties dialog window.
Restart your computer.
Access the PictureView service by manually typing: https://www.pictureview.com. Do not use a bookmark, favorite, or other link to access the PictureView service.NOTE: If you wish to create and use a bookmark, favorite, or other link to access the PictureView service, please make sure it reads as follows: https://www.pictureview.com
Related Links: